Welcome to my chimaira site. Hopefully soon the site won't be as empty.
2-13-00- My chimaira site was born today. Right now it is sort of empty but soon it will be loaded with lots of cool stuff.
3-24-01- I did a few little changes here and there. I will be adding lyrics very soon.
4-18-01- The site now has a new look please e-mail me and tell me what you think. I added some lyrics and some news to the news section.
6-22-01- Sorry I haven't been updating lately. I added some news today.
7-3-01- Jason Hager has left Chimaira. Go to the news section to read the full story of Jason Hager leaving Chimaira it was taken form the official site.
7-18-01- I added some tour dates that I took off the PRP.
8-6-01- Pass out of Existance is now expected to be release on October 2nd.
8-9-01- I added one tour date. On august 27th Chimaira will be in Portland, ME. I got that off thePRP.com. It doesn't say it on Chimaira's website but the PRP is good enough for me. That date is so important because it is 15 to 20 minutes from my house so I will be there if my parent's let me. I just saw Mudvayne a few days ago and Boy Hits Car a few weeks before so they think I've been to enough concerts. I am now blabbing on for no reason. I geuss I'm just excited to see Chimaira will be in Maine. YAY!!!!! I can't wait to hear some new stuff of Pass Out of Existance. I finally finished typing This Present Darkness Lyrics.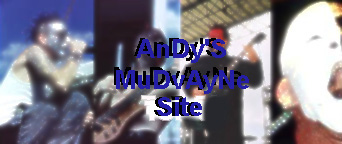 BrakeOut.Net BannerXchange